HOT DRINKS
Served until 4pm (3:30pm Sundays)
Americano

£2.00 // £2.50

Latte

£2.00 // £2.50

Cappuccino

£2.00 // £2.50

Flat White

£2.00 // £2.50

Espresso

£2.00 // £2.50

Double Espresso

£2.00 // £2.50

Macchiato

£2.00 // £2.50

Mocha

£2.00 // £2.50

Chai Latte

£2.00 // £2.50

Hot Chocolate

£2.00 // £2.50

Hot Chocolate Deluxe

£2.50 // £3.00

Tea for 1

£1.75

Tea for 2

£3.00
COLD DRINKS
Served until 4pm (3:30pm Sundays)
Berry Good

£3.95

Big Green Mint Machine

£3.95

Blue Thunder

£3.95

Man-Go Crazy

£3.95
Chocolate Oreo

£3.95

Strawberry Shortcake

£3.95

Milkshake

£2.95

Iced Coffee

£2.00 // £2.50

Sapcote Frappe

£2.95
Other drinks are available in the chiller
BREAKFAST
Served until 3:30pm (3pm Sundays)
Toast and choice of spread

£1.95

Toasted Tea Cake

£1.50

Full Cooked Breakfast

£6.95

Veggie Breakfast

£6.95

The Georgie BEST

£4.95

Bacon Sandwich

£3.50

Sausage Sandwich

£3.50
Add extras to your breakfast for just 50p each Bacon, sausage, egg, black pudding, field mushroom, tomato, toast
(Gluten free sausages & cobs available)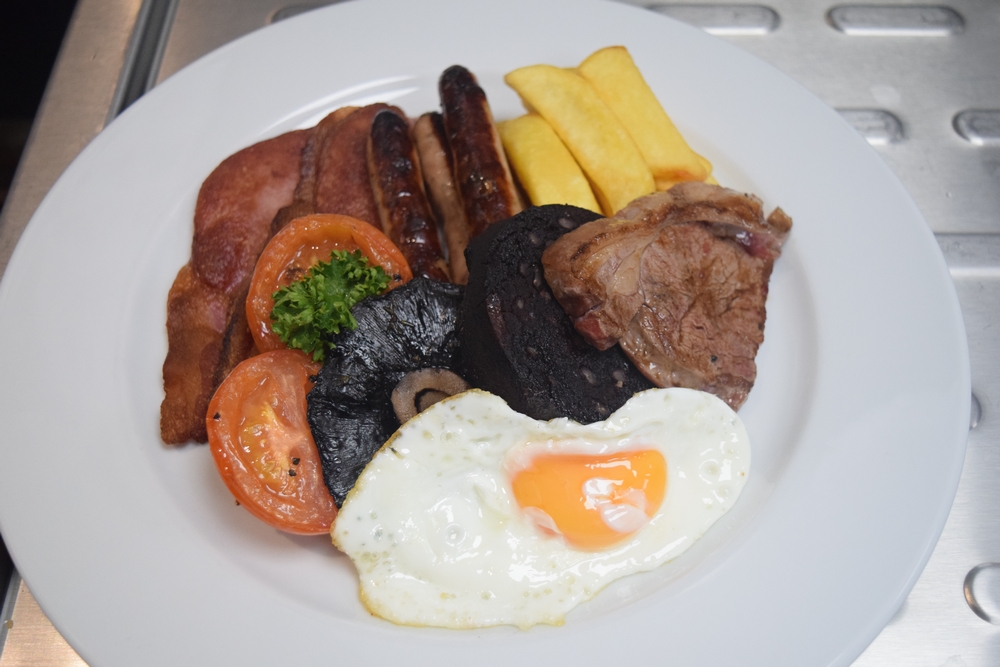 SANDWICHES
Served until 3:30pm (3pm Sundays)
Thick cut bloomer sandwiches on a choice of Granary or White,
Served with house side salad & tortilla chips
Mature Cheddar & Pickle

£4.95

Honey Roast Ham, Wholegrain Mustard, Beef Tomato & Lettuce

£4.95

Tuna Mayonnaise & Spring Onion

£4.95

Oak Smoked Salmon, Cream Cheese & Cracked Black Pepper

£4.95

Planch Grilled Rump Steak, Red Onion, Rocket, Mustard & Cherry Tomatoes

£4.95
OPEN SANDWICHES
Served until 3:30pm (3pm Sundays)
Thick cut bloomer sandwiches on a choice of Granary or White,
Oak Smoked Salmon, Lemon & Dill

£4.95

Plump Mediterranean Prawns, Marie Rose Sauce & Lettuce

£4.95

Avocado, Walnuts & Watercress with Grain Mustard

£4.95
PANINIS
Served until 3:30pm (3pm Sundays)
Served with house side salad & tortilla chips
Ham & Cheese

£4.95

Large Field Mushrooms, Sun Blushed Tomatoes, Basil & Pine Nut Pesto (V)

£4.95

Smoked Bacon, Brie & Cranberry

£4.95

Tuna with Cheddar & Spring Onion

£4.95

The Italian - Tomato, Mozzarella & Pesto

£4.95
JACKET POTATOES
Served until 3:30pm (3pm Sundays)
Served with house side salad
£3.95
Includes 2 x 50p toppings or 1 x £1 topping from the list below
Bacon

50p

Baked Beans

50p

Cheese

50p

Coleslaw

50p

Goats Cheese

50p

Onion Relish

50p

Spring Onions

50p

Tuna Mayo

50p

Prawns

£1.00

Smoked Salmon

£1.00
This is not our full menu.
Please bear with us while we update this webpage 🙂
My first time at the garden centre coffee shop yesterday the food drinks and service was 100% give them a try folks!
I am already a regular visitor to the garden centre, but today visited the Coffee shop too! Wow! Can only give a top mark review for this!...Very clean, spacious friendly staff, great food (I can thoroughly recommend the hand pressed burger!) My favourite garden centre just got better....The only down side is...I will now have to spend more money, because I won't be able to just buy plants now, without spending a bit more in the Coffee shop! lol! 5 stars from me!