We have a large range of christmas lights here at Sapcote Garden Centre, and are well known for it around Leicestershire.
From Supabrights to Icicles, we have every variety of lights you could ever need, including Battery Operated, that last for 30 days on one set of batteries!
And all of our christmas lights are made from LED's, so you won't have the hastle of finding broken bulbs (the main problem with the old screw in variety).
All of our Christmas lights are out on display so you can choose your favourite and there is always an expert member of staff on hand to assist you with choosing the right set of lights for your needs.
Choosing the perfect set of Christmas lights
Where do you want to display your lights, choose from the options below:
Outdoor Christmas Lights | Indoor Christmas Lights
Outdoor Christmas Lights

These lights are perfect for lining the edge of your house, or decorating outdoor trees and doorways, with sparkling LED's that will light up the night sky or your street this Christmas!
Choose your favourite style from the varieties below:
Snowing Icicle Christmas Lights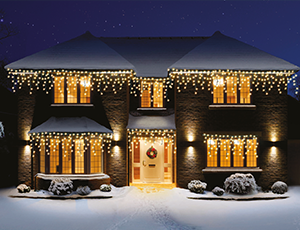 These snowing icicles give you a beautiful display of hanging LED lights that come in various colours to create amazing displays around your home. You can customise the twinkle (or have none at all), and the dangle down creating that classic "icicle" effect, perfect on the edge of your roof.
Click here to see our full range of Icicle Christmas Lights
Supabright LED Christmas Lights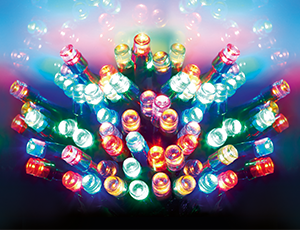 The classic Supabright LED Christmas light range is the best selling range of lights in our garden centre. They come in all traditional colours, with some mixed varieties added in, all multi-action (can twinkle), and have LED long lasting, low voltage bulbs. Many different lengths of light available to suit your display needs!
Click here to view all of our Supabright Christmas lights
Battery Powered Christmas Lights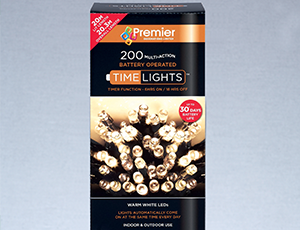 Battery operated lights are a fantastic option for those hard to reach places, when a plug is just too far away. And the benefit is that the batteries in the lights last for 30 days on a single set of AA's, so you can leave them up all season, without having the awkward job of regularly changing them!
Click here to see the full range of Battery Powered Christmas lights
Fairy LED Christmas Lights
These LED lights are styled in the classic fairy shape, which gives you the long lasting effect of LED bulbs, with the classic glow and shape of the traditional Christmas fairy light!
Click here to see the full range of Fairy Christmas lights available
Cluster Christmas Lights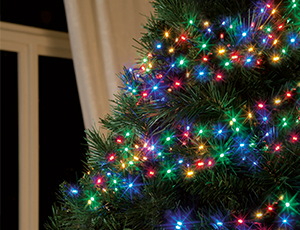 Clusters give you plenty of light, with bunches of colourful LED bulbs that are perfect for decorating your Christmas tree.
They come in many colours and sizes.
See the full range of Cluster Christmas Lights here
Indoor Christmas Lights

Indoor Christmas lights are great for deocrating your Christmas tree, picture frames and mantle pieces, and we have got a great selection to me your home look special this Christmas. All of our outdoor Christmas lights can also be used indoor, and there is much more choice, so we recommend looking at those first!
Choose your favourite type of indoor Xmas lights from the selection below:
Indoor Christmas Decorations with Lights
Artificial Christmas Trees with Lights
Please Note: All lights are subject to availability. Please phone ahead to reserve stock and avoid dissapointment!
We stock a wide range of christmas products for you to buy, such as real christmas trees in Leicester, christmas decorations, and christmas lights.
You can buy Christmas lights at our garden centre in Leicestershire, whether you are from Hinckley, Blaby, Oadby, Countesthorpe, Nuneaton, Coventry, Loughborough, Oakham, Broughton Astley, or just down the road at Stoney Stanton and Sapcote. We are right next to the M69 junction, so no more than 30 minutes from the centre of Leicester! And our friendly staff are always happy to help with any questions you may have.