All Weather Garden Furniture
No more maintenance. Less annoying garden chores. Choose all weather.
You will probably be aware of the common problems with wooden or steel garden furniture:
They require maintenance!

Our range of all weather garden furniture is different.
You don't need to maintain it in any way, and you can leave it outside all year without a cover.
This gives you back your time, and saves you money in the process!
Our Range
We have two types of weatherproof furniture for you to choose from, each with a distinct style.
Winawood Furniture
It looks and feels like wood, but requires no sanding, oiling, or covering. Perfect for those wanting the classic look, with a useful modern twist.
The material is made from compressed polystyrene, which creates a dense material with a grain effect, giving it the look and feel of traditional wooden furniture.
We've stocked Winawood for over 3 years now, and the feedback has been fantastic. It also comes with a 2 year manufacturers warranty on defects, which gives some weight behind the weatherproof claim.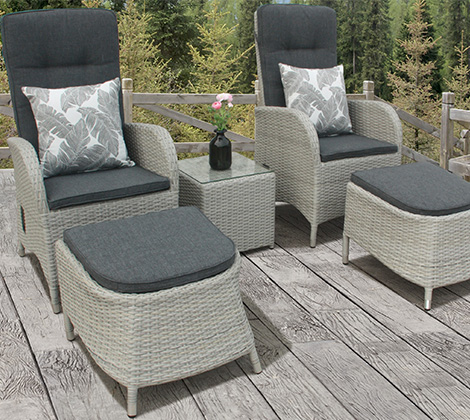 Rattan Furniture
This is synthetic rattan, with hand woven strands, UV stabilised to prevent fading or damage due to the sun. This is built around an aluminium frame, that will not rust.
These two things together make our rattan furniture weatherproof, surviving outdoors all year round without a cover. It will still look brand new in the years to come.
We have a range of dining sets, small patio sets, and sofa lounge style sets available both in store and online.
Come and Visit
We're very well located for a visit, just off the M1 at Leicester. Why not come and see the range in store for yourself?
You can contact us on 01455 274748 for more information, and you can browse the Google Map below to get directions from your home.