Take home your perfect Christmas tree this year.
Within easy reach of all areas of Leicestershire, we have good quality Christmas trees of all sizes, with Nordmann Fir and Norway Spruce varieties available.
Come in today and have your pick of our Christmas tree range!
Sapcote Garden Centre,
Hinckley Road, Sapcote,
Leicester, Leicestershire
LE9 4LG
01455 274049

Christmas Tree Delivery to Leicester
We can deliver your Christmas tree right to your front door for added convenience! And as all of our trees have a unique label, the tree that you pick out is the exact same one that will be delivered.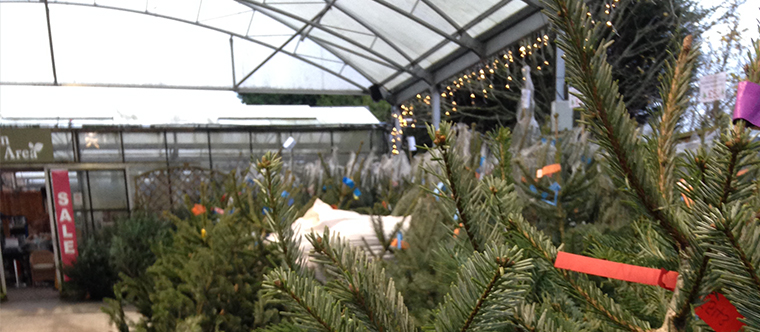 Helping you choose the perfect Christmas tree for your family home.
Here at Sapcote Garden Centre Leicester, we always stock premium quality non-needle drop Nordmann christmas trees, and are well known for it around Leicestershire.
We sell several hundred trees a year, and pride ourselves on the outstanding level of service that we offer, so everyone can find their perfect tree.
Our helpful staff members are ready and waiting to help you find the perfect sized tree for your home, un-netting as many trees as it takes!
Real Christmas Trees
We have a wide selection of lovely real Christmas trees available at Sapcote Garden Centre Leicester.
With both the popular Nordmann Fir (non-needle drop) variety, and the traditional Norway Spruce, that gives off a fantastic aroma.
We often sell out of the most popular sizes so we recommend coming to choose your tree early to avoid disappointment.
Nordmann Fir "Non-Needle Drop" Christmas Trees
The Nordmann Fir variety is by far our most popular Christmas tree. Much thicker needles, that do not drop, and a wonderful dark green colour, make them a fantastic choice for your home.
The sizes start from 4.5ft and go all the way to 9.5ft! So we will have the perfect size to fit your home this Christmas.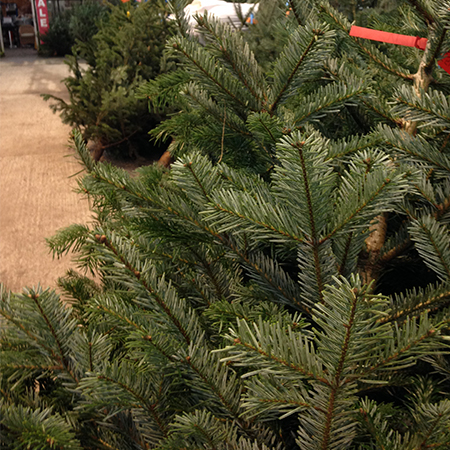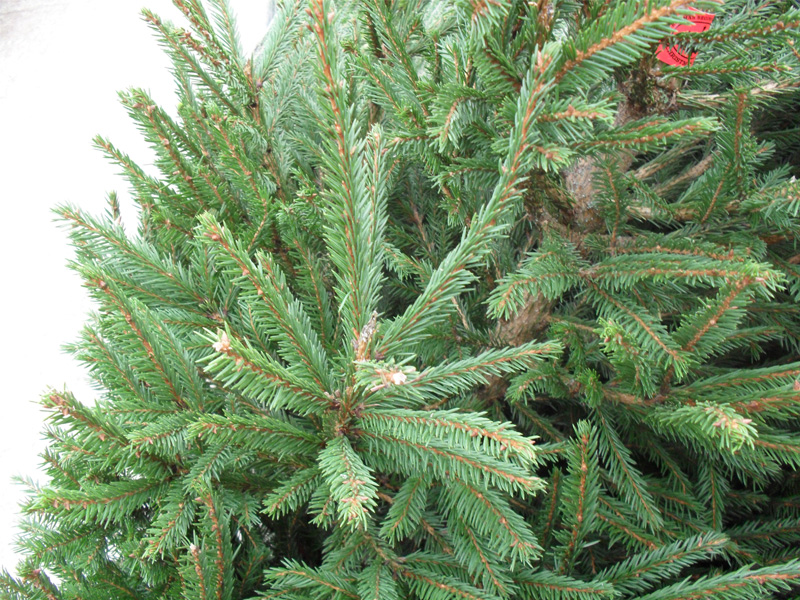 Norway Spruce Christmas Trees
The Norway Spruce is the most traditional type of Christmas tree, with fantastic thin light green needles, that give off that classic Christmas tree smell.
They come in a range of size, ranging from 4ft to 7ft.
Potted Christmas Trees
We have a range of smaller Potted Christmas trees, up to 4ft in height.
We have a selection of potted trees in both the Nordmann fir, and Norway Spruce varieties.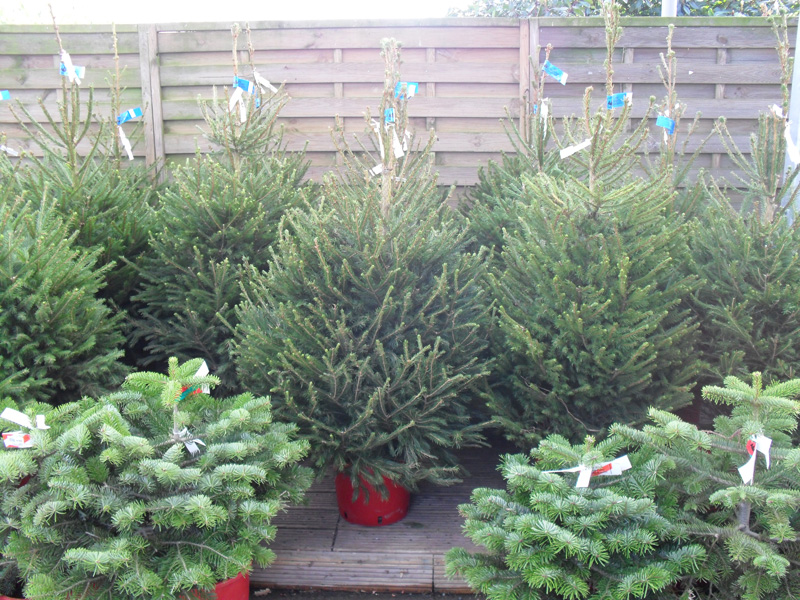 Nordmann Fir
"non needle drop"
4.5ft – £32
5ft – £35
5.5ft – £40
6ft – £45
6.5ft – £50
7ft – £55
7.5ft – £60
8ft – £65
8.5ft – £70
9ft – £75
9.5ft – £80
Norway Spruce
"classic Christmas tree smell"
4ft – £25
5ft – £30
6ft – £35
7ft – £40
Potted & Pot Grown Christmas Trees
"perfect for the smaller areas"
Pot grown Nordmann Fir 60-80cm – £29.99
Pot grown Nordmann Fir 80-100cm – £34.99
Pot grown Norway Spruce 80-100cm – £29.99
Pot grown Norway Spruce 100-120cm – £34.99
Potted Norway Spruce 90-120cm – £27.99

Advice on how to choose the perfect Christmas Tree for you
1. How tall is the room the tree is going into?
Make sure you measure the height of the room first! Lots of people don't do this, and then find that when they get home they have bought a tree that is either too big or too small. We have christmas trees that are all different sizes at Sapcote Garden Centre, ranging from 4.5ft to as high as 9.5ft, so we will be sure to have a tree to perfectly fit the room.
2. How wide can the tree be?
Again, make sure you know how big the space is where the tree will go. Try and have a space where you can access the back without too much trouble.
3. You need a heavy tree!
The heavier the tree, the more moisture there is in the trunk. More moisture means the tree is healthier, which in turn means that it will last longer and will not drop its needles. Try and pick out a tree that has some good weight to it. Our staff can help you with this, and if the tree is too heavy to carry, they will even take it to the car for you.
4. Choose your tree as early as possible.
At Sapcote Garden Centre, we only get one delivery of trees per year, so try and come down early to get the best choice of trees. We find that people who come down later on in the Christmas period often can't get the size that they really wanted, and have a limited choice. Avoid disappointment by coming early – even if you don't put the tree up right away! Just keep it outside where it can be kept damp and cold (like ours are) until you are ready to put it up.
5. Do you need a new base for your tree?
You may already have a base for your tree; in which case try and come to choose your tree knowing how wide the trunk needs to be. We can cut bits off for you here at Sapcote Garden Centre and will do our best to make sure that the trunk will fit. If you do not have a base, you can purchase one from us along with your tree. We have different colours and styles available.
How to keep your tree healthy during the Christmas period:
1. Make a fresh cut at the base of the tree.
We recommend that when you get your tree, you make a fresh cut at the base of the trunk. Cutting off about 1cm will ensure that the tree can take up as much moisture as possible. If you don't make a fresh cut you can run the risk of having a trunk that has closed up its pores, and therefore will struggle to take up water.
2. Keep the base topped up with water.
Christmas trees can drink up to 1 pint of water a day, depending on the size of the tree; so keep an eye on water levels in the base! Top it up as often as is necessary to keep your tree looking healthy.
3. Keep the tree away from radiators and other heat sources.
Positioning your tree near a heat source will speed up its death. It will dry the tree out fast and cause it to drop its needles. Try and find somewhere that does not change temperature much.
When coming to choose your tree, please don't hesitate to ask a member of staff for help, advice, or to alter your tree to make it fit in to your base or room. We want you to have a great Christmas, and having a perfect Christmas tree will certainly help to do that! We look forward to seeing you here during the Christmas period.
A Short Drive from the whole of Leicestershire to find your perfect tree in person!
Sapcote Garden Centre, is located right next to the M69, just off the first junction as you come from the M1 at Leicester.
We are no more than a 25 minute journey from the centre of Leicester, and can be easily reached from Oadby, Nuneaton, Countesthorpe, Broughton Astley, and many other towns in Leicestershire.
Click the button below to find out how close we are to you!
Artificial Christmas Trees
We have a wide range of normal, and fibre optic artificial Christmas trees for sale from our garden centre in Leicester.
—–> See the full range of Artificial Christmas Trees.
We are a short drive from all of these local areas in Leicester, so come and buy your Christmas tree from Sapcote Garden Centre!
Burbage, Hinckley near the M69, Leicestershire just off the M1, Broughton Astley, Stoney Stanton, Birstall, Countesthorpe, Earl Shilton, Bradgate, Nuneaton, Narborough, Enderby and Oadby.
The best place to buy your christmas tree in Leicestershire.